Work Hard, Play Bi (2019)
10-04-2020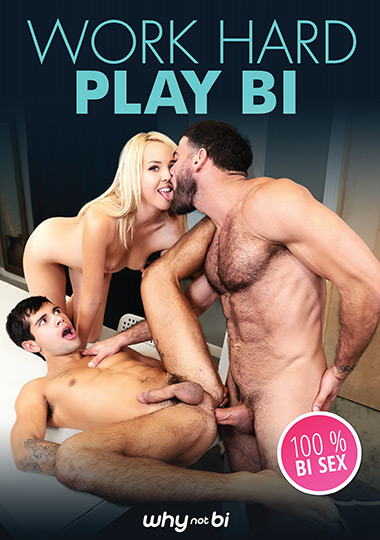 Work Hard, Play Bi (2019)
Starring:
Lauren Phillips, Wesley Woods, Wolf Hudson, Mason Lear, Bentley Lane, Ella Reese, Michael Del Rey, Trent King, Summer Hart, Ricky Larkin, Ty Mitchell, Aali Kali
Categories:
Bisexual
Date Added:
2019
(2396.9 Mb) =
Lauren Philips is a high powered businesswoman with a lot of love to give but not a lot of time to give it. When work starts to get in the way of quality time with her husband Wesley Woods, she realizes that it might be time for some outsourcing. Lauren calls up Wolf Hudson to come and do some husband management for her, encouraging Wolf to roughly dominate Wesley's ass and mouth while she works on some e-mails. Ella Reese and Mason Lear are two demanding people who need a subordinate that they can count on. Both of them think they've found exactly what they need in Bentley Layne, the soft-spoken new intern in their office, but neither can decide who his real boss is. Ella and Mason both compete to stake their claim in the tattooed cutie, sweetening the pot for him by offering their tight pussy and hard cock respectively.
Download
- Work Hard, Play Bi (2019)

Lets Go Bi is a stunning film focusing on the hottest bisexual threesomes yet. These curious people are ready to let go of their inhibitions and give in to their sexual desires. Each scene you can see proud bisexuals are letting go and exploring new taboo sexual fantasies with their hot and hung friends. They truly experience bisexual sex at its best.
We have collected with our 15 years experience the hottest and most watch hardcore movies in Porn X! Watch them all as you can.
Avery Anniversary Surprise: Avery's surprise is going to fuck another man right next to him but tells her husband it's going to be another girl. She blindfolded and strapped her husband's arms down and is not allowed to say a word. That is until she takes his blindfold off to do all the cleanup. Avery is one cruel mistress.
Hard studs and sexy girls mix and match in all kinds of awesome combinations! Everybody sucks and fucks everybody else!
He's Here, On Your Knees - Athena Rayne used to be happy with the money he gives her. Now, she's happier when he gets on his knees taking her spit into his mouth and holding his head close to the action. She loves him so much, she lets him do all the cleaning up.
Information
Users of Guests are not allowed to comment this publication.